B&B La Rosa dei Venti Venice - Bed & breakfast in Venice - Bed and breakfast Venice - B&b in Venice BB Italy hotels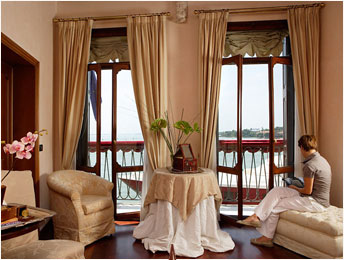 Rooms

The three >Junior Suites at La Rosa dei Venti are found on the second storey (called the "nobile" floor in Venice) of the Bed and Breakfast as does the living room (called the portego here) where one could have breakfast overlooking St. Mark's Basin.
The Junior Suite is set up with twin beds (could be used as single also) or double, comes with bathroom and hairdryer while the Junior Suite lagoon view (as shown on the webcam) is a master bedroom, complete with shower hydro-massage and a balcony with a view over St. Mark's Basin. Upon request we can set up a Family unit.
All rooms come with air conditioning, TV LCD, safe, minibar and wi-fi.

Quick info
Check-in: after 1pm
Check out: by 11am
Breakfast: from 08:30 to 10:30
Room service for free
You can ask information via e-mail to our staff on room availability and prices. Fill in the availability request form and we will reply directly to your e-mail address!
Secure transaction
This site uses a secure server for credit card booking confirmations in compliance with the 128 bit Secure Socket Layer (SSL) encryption world standard.